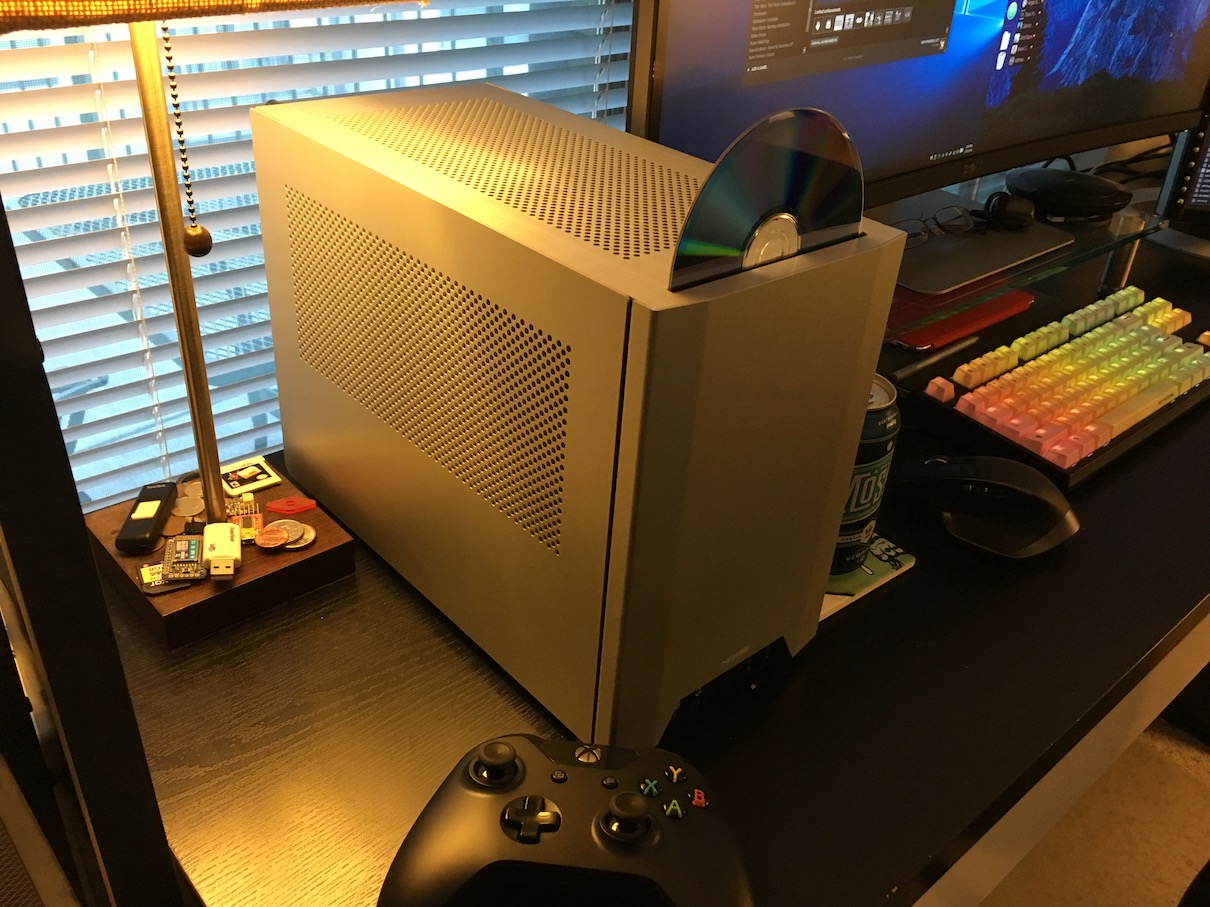 For all the wonderful advancements made in the technology sector over these past few decades, remarkably little has changed when it comes to building your own computer. If you have any experience assembling a PC in the late nineties or aughts, most of that knowledge still applies. You need a case, a processor, a motherboard, RAM, a storage device, a power supply, some sort of cooler, and optionally a graphics card. Assembling the pieces is straightforward, and there's a cornucopia of guides up on YouTube if anything's not clear.
Selecting which parts to buy can still be a little daunting however, particularly if you've been making do with a laptop for the past few years. Between a burgeoning indie game scene and the high profile launch of multiple VR headsets, more people than ever are looking to get back into PC building. This post is a collection of the knowledge I wish I had when I started making my new PC earlier this year. This article isn't going to be updated frequently with each new generation of hardware, so I'm going to try to keep the advice general instead of offering a specific parts list.
Determine Your Budget and Level Set With a Recommended Parts List

You don't have to start at square one when determining which parts you should buy. Sites like Logical Increments and Ars Technica's System Guide series can give you a baseline build that you can tweak to your liking. They're good for establishing your budget, and creating performance expectations.
Processors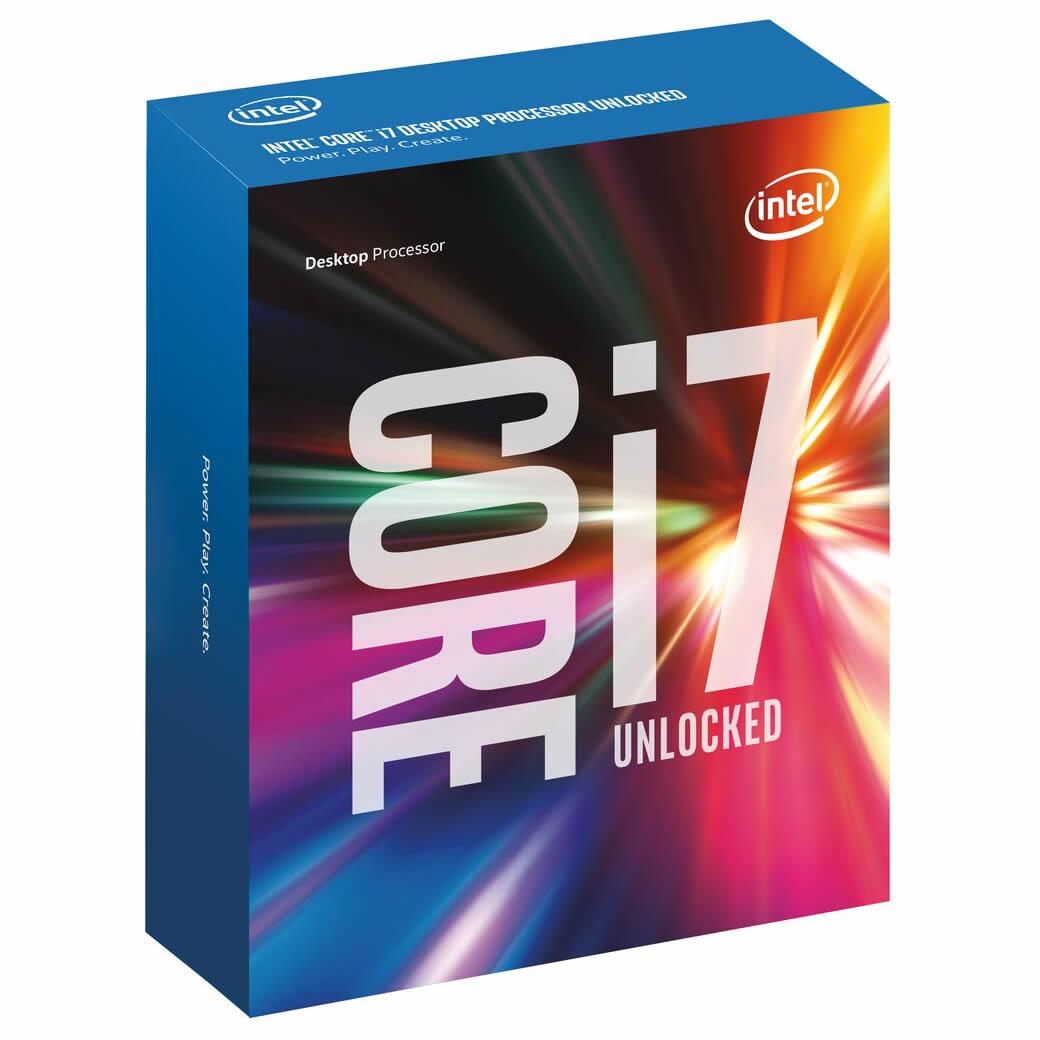 The first thing you should establish is what processor you're going to use. Intel's still the reigning champ of desktop processors, and they're been using the well established Core i3/i5/i7 nomenclature for a while now. Core i5 processors are generally a good starting place for a gaming machine, although the jump from i5 to i7 isn't too exorbitantly expensive if you want to try to future proof yourself.
Motherboards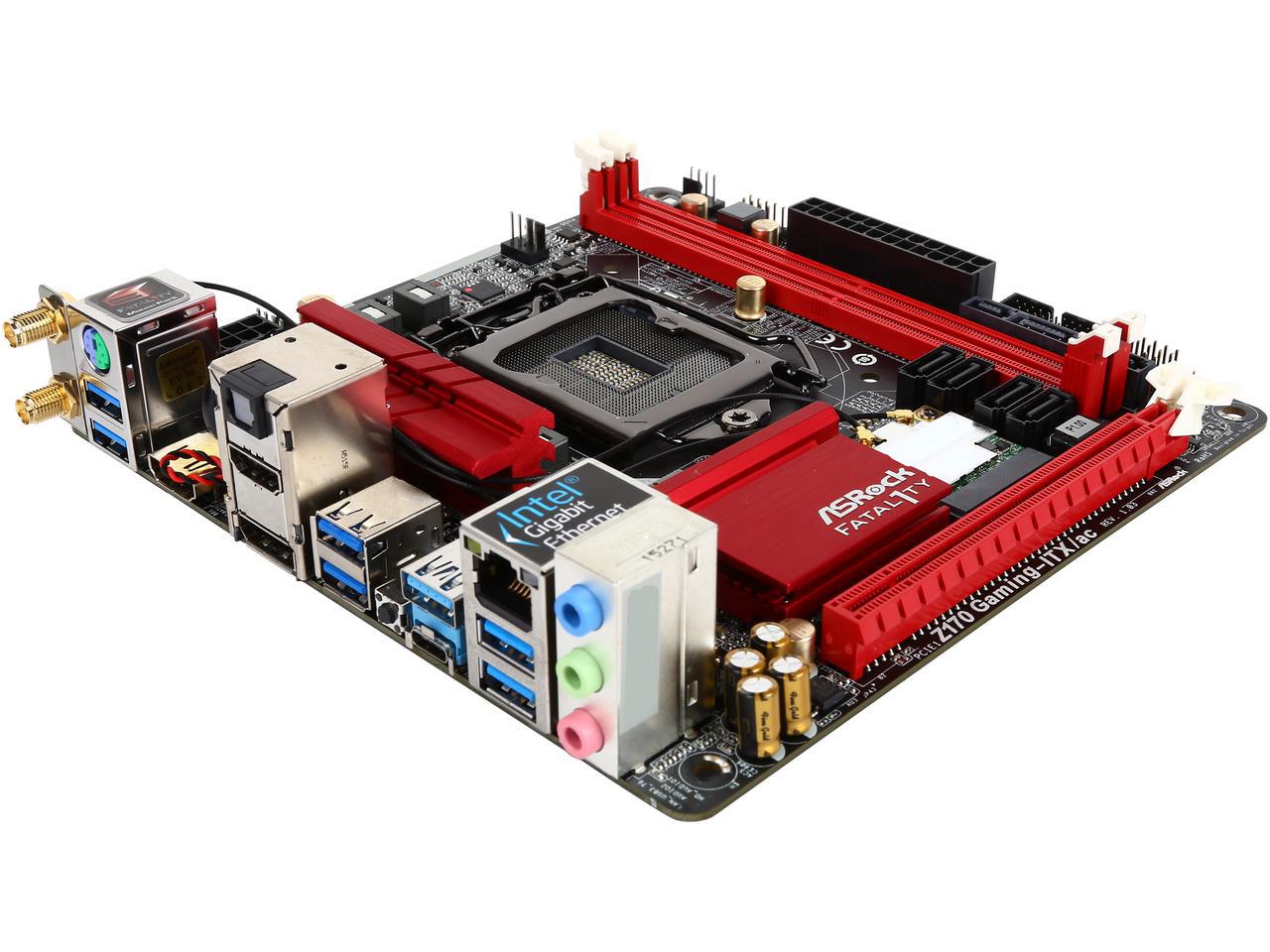 Your choice of processor will dictate which motherboards you can use. With each new generation of processor, there's usually a new generation of motherboards released to accommodate it. Make sure the socket types match.
There are three general sizes of motherboards: ATX, Micro-ATX, and Mini-ITX. ATX is the largest size, Micro-ATX is a medium sized motherboard, and ironically enough Mini-ITX boards are he smallest standard form factor PC motherboard. Go figure that Mini's smaller than Micro.
Micro-ATX motherboards are the most common. They've got a good number of ports and expansion slots on them. ATX boards are truly massive, so I recommend sticking with at least a Micro-ATX.
As you might have guessed from the title of this guide, there's a decent argument to be made for building a Mini-ITX build these days, even if you're just a hobbyist PC builder looking to make a modest gaming machine. The Mini-ITX form-factor isn't as compromised as it once was, and there's a variety of easy-to-build cases to chose from.
Mini-ITX machines can sport the same mid to high end specs that their bigger brethren sport, with a few caveats. First: Mini-ITX motherboards only have room for one expansion card. If you're only planning on using one graphics card, this generally isn't that big of a deal. A lot of the historical uses for expansion card slots like Wifi and surround sound have become standard motherboard features now. If you're okay with having limited expandability options down the road, only having one PCIe slot generally isn't a big deal.
The second issue with Mini-ITX motherboards: They generally have fewer RAM slots than Micro-ATX boards. Instead of being able to use four inexpensive 4GB RAM sticks, you would have to use two 8GB RAM sticks instead. This can put a lower overall cap on how much RAM your system can use, and generally makes things slightly more expensive.
RAM

Keeping the trend going, your selection in RAM will be dictated by your processor and motherboard selection. Most motherboard vendors have a list of known-compatible RAM vendors up on their support sites. 16GB of RAM is the good sweet spot for a gaming PC these days. 8GB is the bare minimum you would want in a budget build, while not too many games will take advantage of 32GB. I'd only recommend going that high if you have a lot of virtualization or video editing needs.
Cases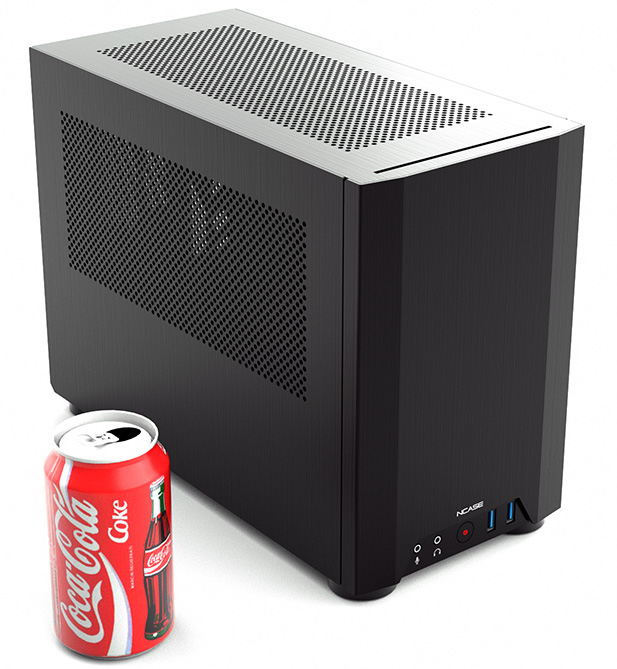 Cases are pretty straightforward. They're a box you screw all your parts down to, there's not a ton of room for variation here. Alienware-inspired cases with lots of angled plastic bits are fairly inexpensive, while brushed metal cubes that accommodate the design sensibilities of MacBook users will run you a bit more.
Some cases come with power supplies, which can be a mixed bag. A PSU you that you pick yourself will generally be more reliable and/or quiet. The combo deal can be a decent way of saving a few bucks though.
Much like motherboards, cases come in a variety of sizes as well. Once again, steer clear of full ATX towers. Micro-ATX cases come in a few different sizes: Full Micro-ATX Towers, Micro-ATX Mid Towers, and Micro-ATX Mini Towers. The differences generally come down to how many hard drive / CD slots they sport.
Mini-ITX cases are less standardized, but then generally fall into three types: Ludicrously large cases that support graphics cards and multiple full sized CD slots, tiny Mac-mini clones that don't support graphics cards, and finally, a growing class of size-conscious gaming cases.
The current reigning champ of Mini-ITX gaming cases is the NCASE M1. It's a relatively small case that still supports large graphics cards and large CPU coolers. It costs four times as much as your standard PC case, and unfortunately the manufacturer still has to do small-run batch orders, so it can occasionally take months to get your case if you order at the wrong time. That being said, the M1 is remarkably small for how feature-rich and compatible the case is. Despite it's diminutive stature, it's still an approachable case for PC building notices.
Alternatively, there's cases like the SilverStone RVZ02. These slim cases take on a much more console-like approach to their design. To save space, cases like the RVZ02 place the graphics card and motherboard side-by-side using an adapter cable. They're pretty cramped and heating can be a concern, so you might want to steer clear of this style case if you're looking to build your first PC.
Power Supplies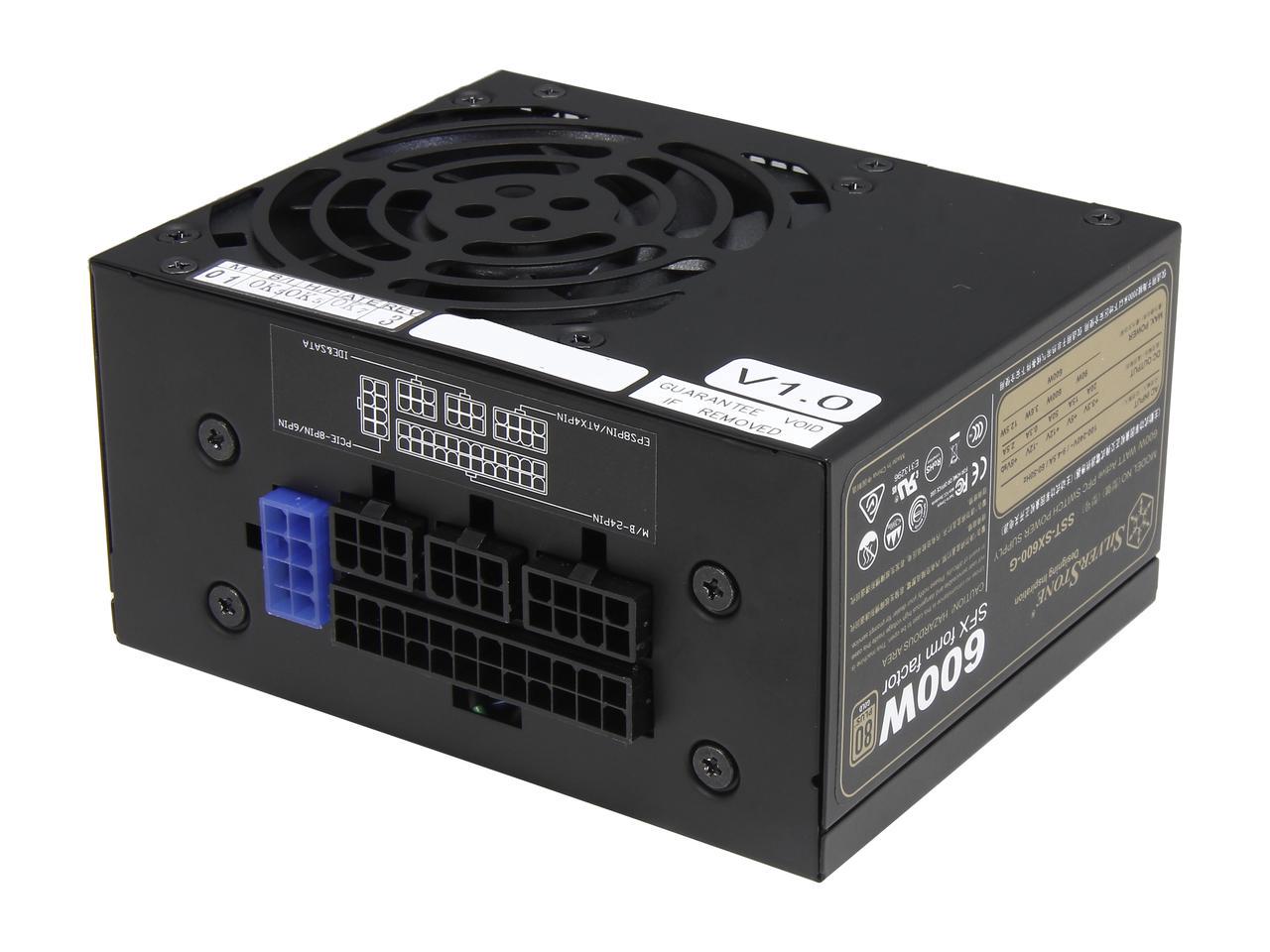 For a single-GPU computer, you don't need an excessively beefy power supply. A 500W PSU will be fine. Your case specs should make it clear which power supply form-factors it supports. Most large cases use the ATX power supply form-factor, while smaller cases will use the SFX form-factor. If your small form-factor case supports it, you might want to consider going with a new SFX-L PSU. It's slightly longer, allowing for a larger and more quiet fan.

You might see power supplies describe themselves as "Modular". This is a fairly common feature these days that describes the power cords leaving the case. In non-modular power supplies, you get one massive cable coming out of the case that splits off into every power cable you could conceivably ever need. Modular power supplies break off these cables, allowing you to only install the cords you need. This feature is invaluable in your case's cable management, and should be viewed as a requirement for small form-factor PCs.
Coolers
Once you pick your processor, motherboard, and case, you can start looking into how you're going to cool everything. It's generally a good idea to search for the specific case-cooler-motherboard combination you're considering to see if anyone's built it before, and whether or not they ran into any space problems. It's less common these days, but you still do get the occasional cooler pipe bumping into a RAM stick, etc.
Coolers come in three different types: Air Coolers, Water Coolers, and the relatively new "All-In-One" (AIO) Cooler.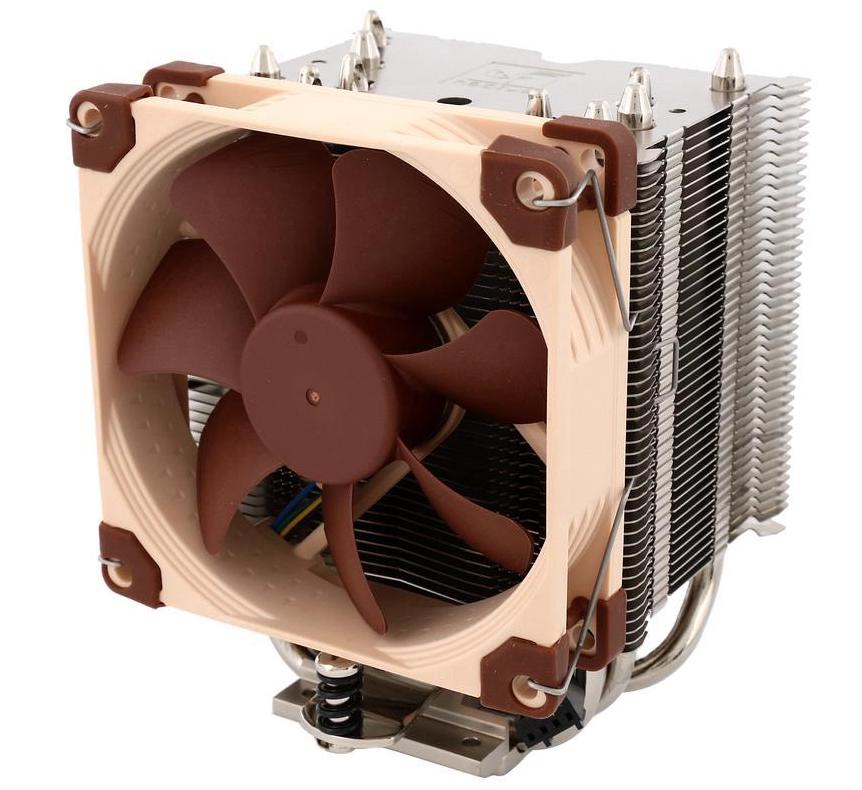 If you're not planning to overclock your computer, you should probably stick with a standard air cooler. They're the most straightforward to install, and somewhat unintuitively, they can be the most quiet when you're doing simple idle tasks like browsing the web or watching a movie. Fans can get incredibly quiet when rotating at slow speeds, while water cooled machines often have a low but constant pump noise. There's a few good vendors out there, but I'm particularly partial to Noctua's large air coolers.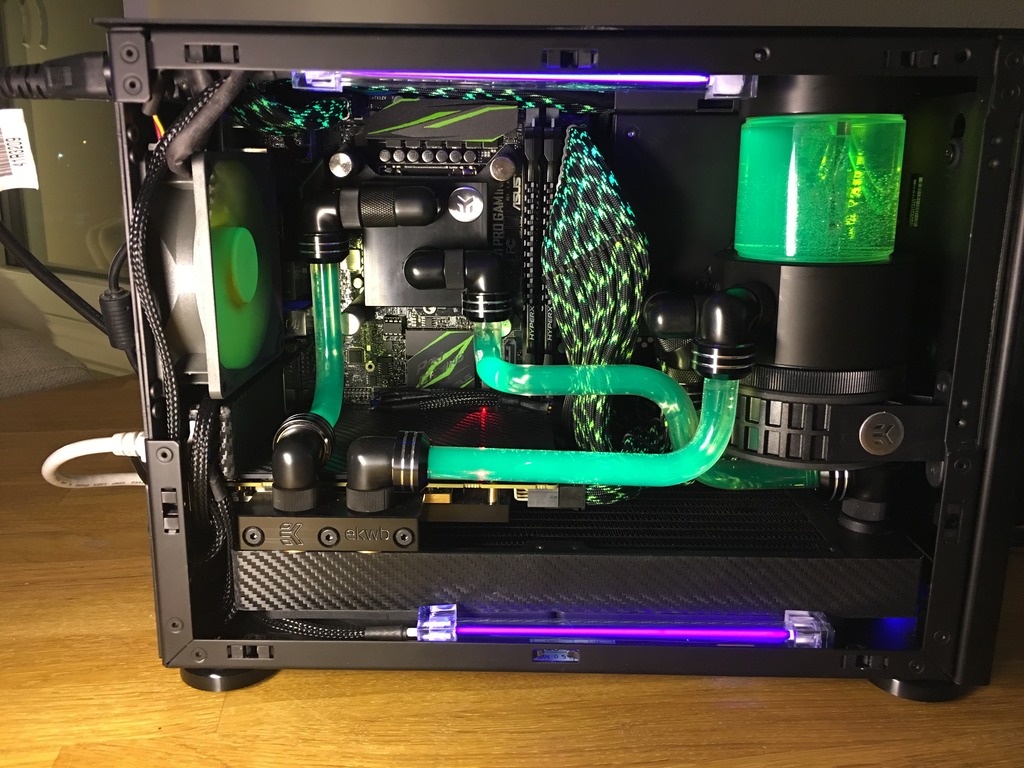 "Closed Loop" water cooled machines are an incredibly complicated topic far outside of the scope of this article. If you're an advanced builder who has extreme cooling needs, having a set of pipes running between your CPU, GPU, and a water reservoir can be a fun project, but it's not for the faint of heart.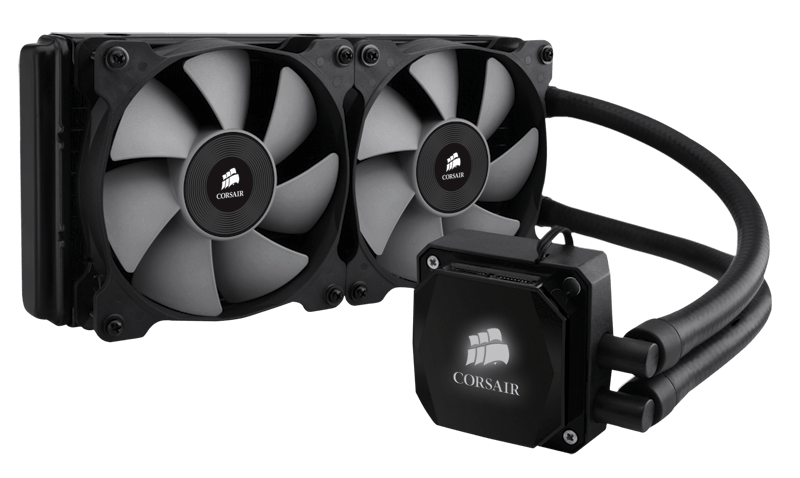 In between air cooling and water cooling are All-In-One coolers. They take the same principles as water cooling, but package it in a straightforward off the shelf system. You attach a cooling block onto your CPU, then two pipes run to a large radiator that attaches to your case's exhaust fans. The fans blow over the radiator to vent off the heat, and an embedded pump returns the water to the CPU block. It's a nice approachable cooler, but still generally overkill if you're not planning to overclock your CPU.
As far as case fans go, the Noctua NF-F12 have generally been regarded as the most quiet case fans you can buy for a while now. You just have to get past their odd cream and brown color scheme.
Graphics Cards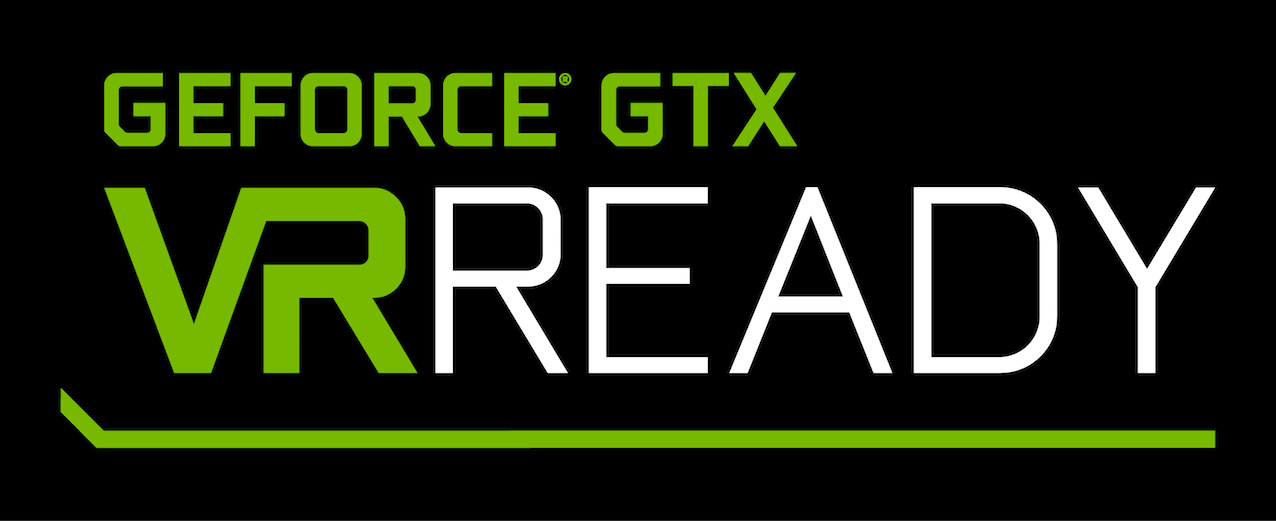 There are arguments to be made for both Nvidia and AMD graphics cards. Nvidia graphics cards are still the most popular, but AMD has plenty of fans as well. In general, Nvidia does well with expensive high end cards, and AMD often has good price-to-performance budget cards.
With the advent of VR, Nvidia and the rest of the industry are starting to make their versioning and naming schemes a bit easier to understand. When the Oculus Rift and HTC Vive launched, Nvidia had three flagship graphics cards: The GTX 970, the GTX 980 Ti, and the Titan X. VR headsets required the GTX 970 at a minimum, while a few games highly recommended the GTX 980 Ti.
Since then, Nvidia has released the GTX 1070, the GTX 1080, and a new version of the Titan X. They've indicated that they intend to stick with this low-medium-high product line for their graphics cards for the foreseeable future. The GTX 1070 outperforms the GTX 980 Ti in most regards, so if VR is your primary concern, it's hard to buy a bad graphics card at this point. In general, buy the GTX *70 if you're on a budget, the GTX *80 if you want have some longevity with your build, and a Titan X if you've got ludicrous performance requirements.
Graphics Card Coolers
Regardless of which graphics card you get, you'll have to take some time to think about what style cooler you want to get.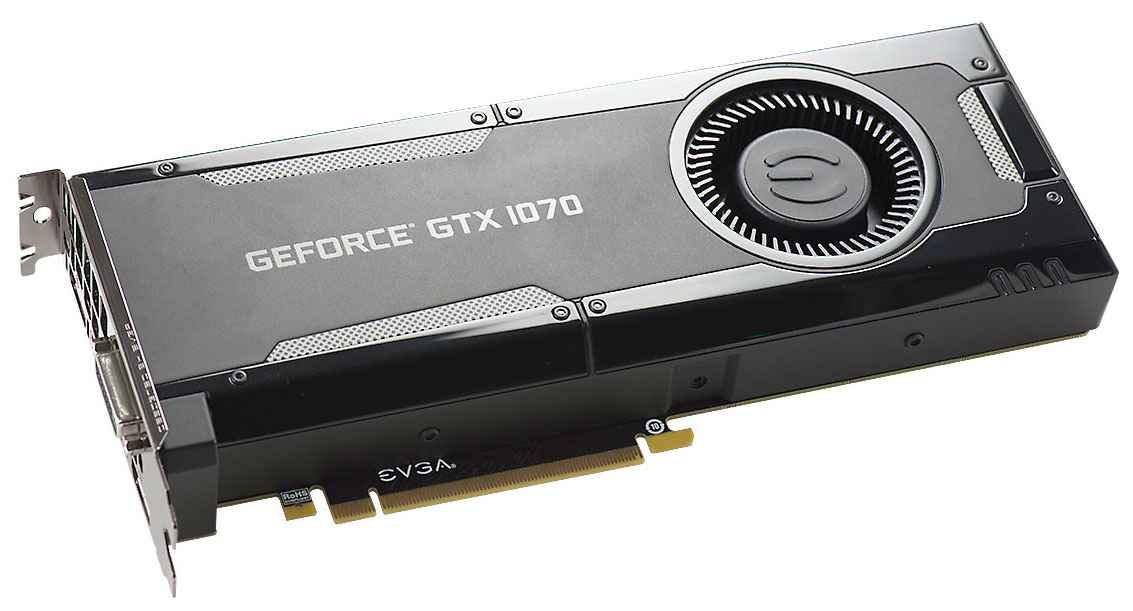 "Reference Blowers" are the most straightforward type of GPU cooler. They're what Nvidia and AMD use in their reference cards, and most third parties like EVGA or Zotac put out a version of their graphics cards that use these style blowers. The fan on the side of the card sucks in air, and then it's blown out the back of the card to exit the case. These are usually the recommended style card for small form-factor Mini-ITX cases, but they can be a bit on the louder side.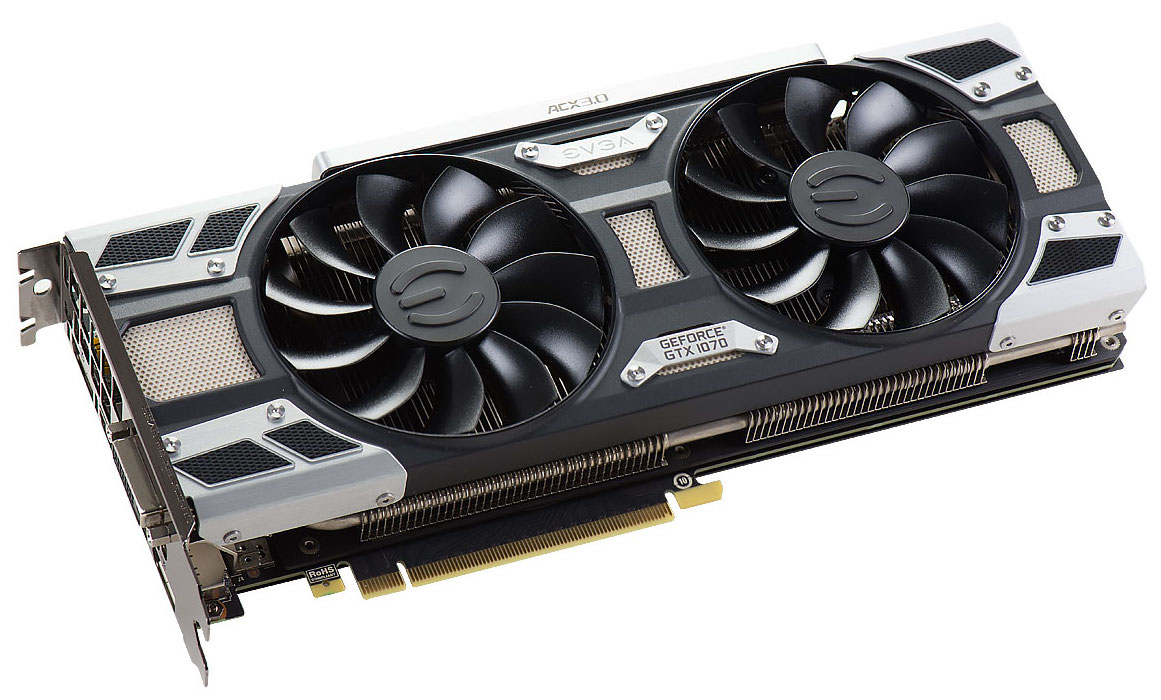 "Custom Coolers" like EVGA's ACX line add more fans to the graphics card. This lets the manufacturer factory overclock the GPU, gaining you an extra bit of performance for often no additional cost. Custom cooler's large fans generally just blow hot air into the case itself, and rely on the case's cooling to deal with it. It makes them poorly suited for Mini-ITX cases, but they're great for larger Micro-ATX setups.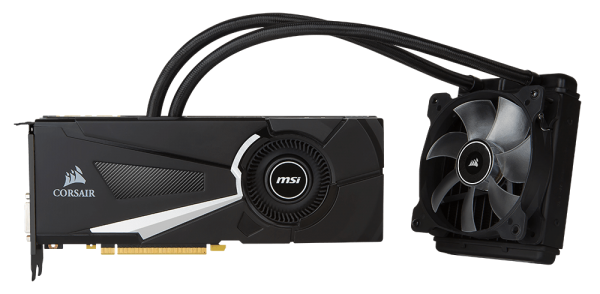 Finally, some graphics card manufacturers have started offering All-In-One cooler setups. The same advice as AIO CPU coolers applies. It's generally not worth the extra cost unless you're going to overclock it.
SSDs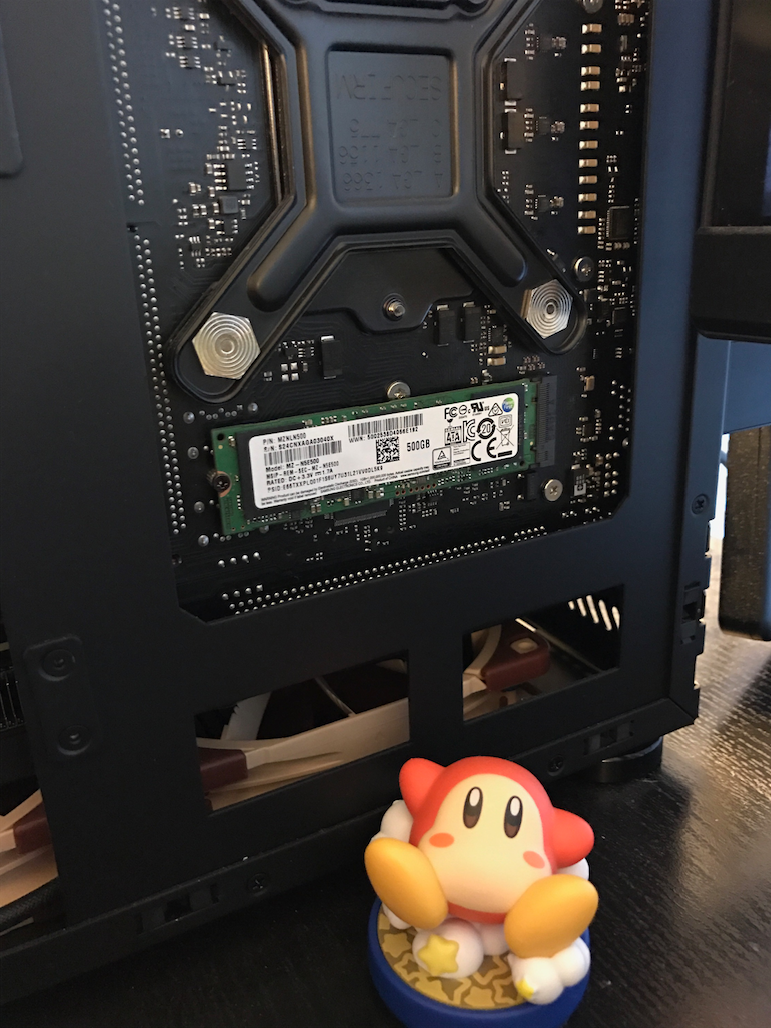 You're probably all familiar with 3.5" hard drives, 2.5" laptop hard drives, and 2.5" SSDs at this point. It's still common to see dual SSD+HDD setups in larger PCs, but with the advent of online streaming services and lower SSD prices, a lot of builders are getting by with just one large SSD.
Much like how laptops helped popularize the 2.5" SSD format, Ultrabooks have helped create the new industry standard M.2 SSD format. These SSDs come in the same storage capacities and speeds as regular drives, but they attach right onto your motherboard similar to a RAM stick. They've become popular on Mini-ITX builds to help cut down on clutter. Interesting, many motherboard vendors put their M.2 slot on the underside of the motherboard. It's usually not a problem, but it's worth double checking that your motherboard and case won't get in each other's way if you plan on using an M.2 SSD.
How To Make Sure Everything Works Together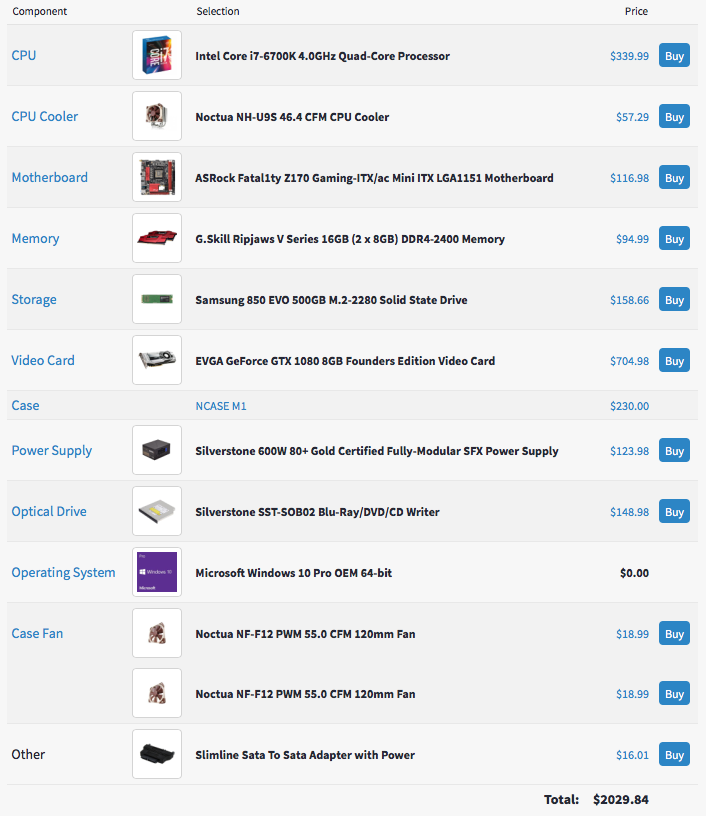 Starting from a recommended build list goes a long way to giving you piece of mind that everything will work. When swapping out one of the components from a recommended build, it's a good idea to make sure it has the same specifications and standards.
Another useful tool is PC Part Picker. Not only does it make comparison shopping between sites like NewEgg and Amazon easy, but it also does a basic check on the components in your parts list and flags them when it thinks they're not compatible.
PC Part Picker also lets users upload completed builds. You can filter out by the parts you intend to use, so it's easy to double check that the GPU you've got your eye on will fit in the case you like.
If Reddit's your thing, /r/buildapc and /r/sffpc are both friendly communities. /r/buildapc is designed as Q&A forum for potential builds, and the users there are more than happy to spot-check your parts list and offer suggestions on how to improve it or save costs. If you decide to go with the NCASE M1, they've also got great a user-contributed spreadsheet with extensive part and case compatibility reports.
Epilogue
So there you have it. Everything I wish I knew when I started building my computer earlier this year. Hopefully someone will find these tips useful. In case you're curious, here's the build I ended up going with:
PCPartPicker part list / Price breakdown by merchant